You'll find one of the best ways to see and enjoy the amazing region of Puglia is on a bike. You'll find a complete itinerary below for a week long tour. However, if you want, we can customize any offering or just do a few days during your stay.
If you aren't traveling with a big group and would still like to join a bike tour, we host two every year with a great travel agency, HETravel.  Click here for details on those particular trips as you would need to book those through them.
Itinerary
Bike along the ancient Appian Way and lightly traveled roads through countryside that reflects centuries of pilgrims, soldiers and other travelers.
During your stay, you'll have five biking days.  Each day you are fully supported with a van, an SUV with a bike rack and two Italian guides.  Most rides take you on back roads you'd never be able to find on your own (and avoid a lot of traffic in the process), allowing you to see and enjoy the beauty of the land that few get to see.  From local fishing villages to the UNESCO World Heritage Site of Castel del Monte to ancient Roman bridges, you'll experience all that Puglia has to offer.  Each day, you'll head back to the villa to relax and enjoy the food and wine of the region at restaurants in Terlizzi and around the area. You don't have to worry about anything, as we supply the bikes, routes, support vehicles, meals and guides.
Saturday, Welcome to Puglia
After settling into your rooms, in the afternoon we will check out and adjust our bikes so that we'll be ready to go the next morning. Relax and explore the villa and then enjoy a welcome dinner tonight at the villa, sampling the olive oil and other delicacies of the region.
Sunday, Adriatic Adventure
Today we ride to f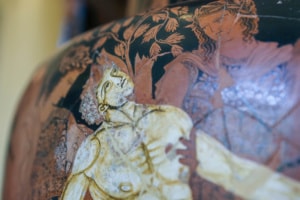 ew neighboring towns. First, a morning bike ride through the serene countryside, orchards, and vineyards to the former necropolis of Ruvo di Puglia and the Jatta Museum, famous for its Grecian Urns. (Many of Ruvo's Grecian Urns are on display in the Greco-Roman Galleries at the Metropolitan Museum in NYC).  Then, it's off to Molfetta.  After Molfetta, we lunch together in a delightful seafood restaurant right on the water.  After lunch, we'll take a quick ride to the seaside town of Giovinazzo and explore the quaint seaport and the magnificently restored medieval town center with a quick walking tour. Then we ride back inland to Villa Cappelli.  For dinner tonight, we'll enjoy a local Terlizzi restaurant together.
Monday, A Gravina We Will Go
Today we bus everyone to the practically "undiscovered" town of Gravina. Gravina itself features a large ravine with some spectacular views and an ancient Roman bridge is right out of a postcard. After taking the morning to tour this amazing town, we'll picnic lunch nearby and then bike through La Murgia with beautiful fields of grain and trulli covering the countryside. When back at the villa, we'll enjoy dinner there this evening.

Tuesday, Holy Cow, It's the Holy Grail!
Today we will ride in the van to first visit Castel del Monte, a UNESCO World Heritage Site that is featured on the back of the Euro penny. Built in the 13th century by the Swabian Emperor, Frederick II, Castel del Monte is perched atop a hill, overlooking all of Puglia and the Adriatic. The castle is featured in many myths and legends, including the Holy Grail.  After a tour of the castle, we will hop on our bikes to ride back to the villa, stopping along the way to visit some sights.  Mostly downhill, the ride features some truly beautiful scenery.  We will enjoy lunch at the villa, and then dinner is own your tonight in Terlizzi.
 Wednesday, Oh my, it's Matera & Pugliano
This will be our off-day from biking, offering a chance to visit Matera and,if time permits, the seaside town of Pugliano A Mare. Matera is a United World Hertiage site, so well preserved it is where they shot Passion of the Christ and the new Ben Hur.  It features homes, restaurants, and hotels built in caves in the soft "tufa" rock and has been chose at the 2019 European Capital of Culture. After Matera, travel to Pugliano a Mare and walk the winding ancient streets of this town that juts out into the sea. Later, we'll return to Villa Cappelli to relax and enjoy and pizza party for dinner, featuring pizzas cooked right in the villa's own ancient wood-burning pizza oven.
Thursday, Mama Mia, it's Mount Gargnone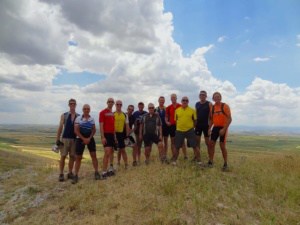 Today we is definitely the toughest ride of the week, but probably the most beautiful as well. We'll jump in the van and start our tour at the foot of Mount Gargnone. Before we bike, you can hike to the top of the Mount for some truly amazing views. Then it's off to Castello di Monteserico a beautiful castle on another hill. We'll picnic at the castle after a short tour, then it's off, around a lake and finish our tour at the hillside town of Poggiorsini. The views on this leg of the trip are not something you'll soon forget and many a traveler will never see.
Friday, Trani — No Not that Kind!
Today on our final bike trip, we head to the beautiful seaport of Trani.  Traveling through the backroads full of olive trees, we'll stop to admire some of the sites along the way. In Trani, we'll tour the giant cathedral that sits right on the sea. After lunch in Trani, we'll head back to the villa for our final farewell dinner.
Saturday, Homeward Bound
Today we bid farewell. Tranfers will be offered to Bari Airport for flights back to Rome and beyond or to the train station.
Save