A week of yoga, relaxation & Italian culture
May 5 — 12, 2018
Start each day with an Ashtanga Yoga – Mysore practice
Get personalized instruction from yoga teacher Cory Bryant
Relax at a historic, beautifully restored Italian villa
Enjoy delicious, vegetarian Italian food
Explore the nearby famous sights with daily excursions
Enjoy a complimentary happy hour every night
Get an insider's tour wherever you go
Don't worry about driving, transportation is provided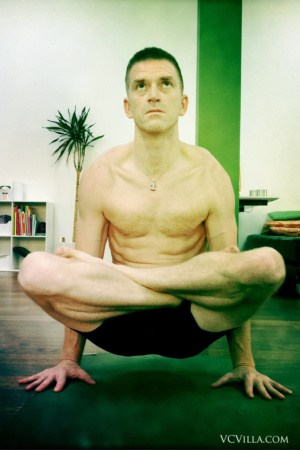 ABOUT MYSORE PRACTICE
 Ashtanga Vinyasa Yoga is a "breath and movement system" that focuses on three key elements (tristhana): posture, breath, and drishti (looking place) to facilitate an inward exploration of the self.
 Mysore is a self-practice where you move through the Ashtanga series of poses as they were sequenced by Guruji Sri K Pattabhi Jois.  The class is not led as a whole, instead, students are given personalized one-on-one instruction. It is appropriate for all levels and all abilities – because it is taught directly to you in the tradition of parampara (succession of teachers and students).
In this setting we will have the opportunity to work more 1:1, with Cory Bryant, your teacher (bio below), striving to provide you instruction that is grounded in this traditional method and building in flexibility so that we can tailor it to your current level of understanding, limitations, strengths, weaknesses, and so on.
If you are concerned or uncertain of Ashtanga and/or mysore, don't be! You don't have to know anything coming in, Cory will get you going and little by little it'll become part of you.
 Each morning's practice time is intended to provide you with a safe and supportive environment in which to carry out your practice and deepen your understanding of not only the asanas, but their integration with the other seven limbs of yoga (especially pranayama/breath control, pratyahara/sensory control, dharana/concentration and dhyana/meditation — and who knows, maybe even samadhi!).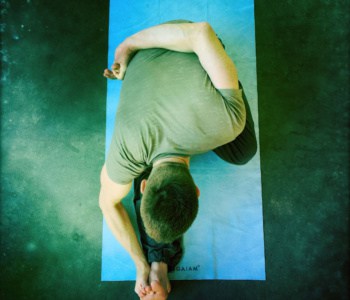 Check out the itinerary below & if you have any questions, just let us know.
Saturday: Bon Giorno! Welcome to Puglia!
Arrive at Villa Cappelli and prepare for a week of yoga, relaxation, food, and fun.
We recommend you schedule your flight through to the Bari airport or if you are arriving by train, you take the train to Barletta or Molfetta and then take the commuter train to Terlizzi. You will be picked up at either the airport or train station and whisked away to Villa Cappelli.
After settling into your room, a light lunch will be available for those arriving early enough. The afternoon will be free to explore the grounds and relax.
For new students, Cory will be available for an optional 15-minute interview poolside. That night, you'll enjoy a welcome dinner at the villa.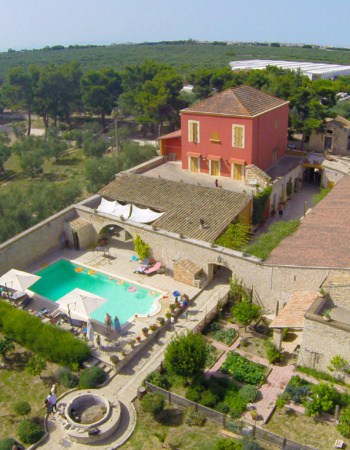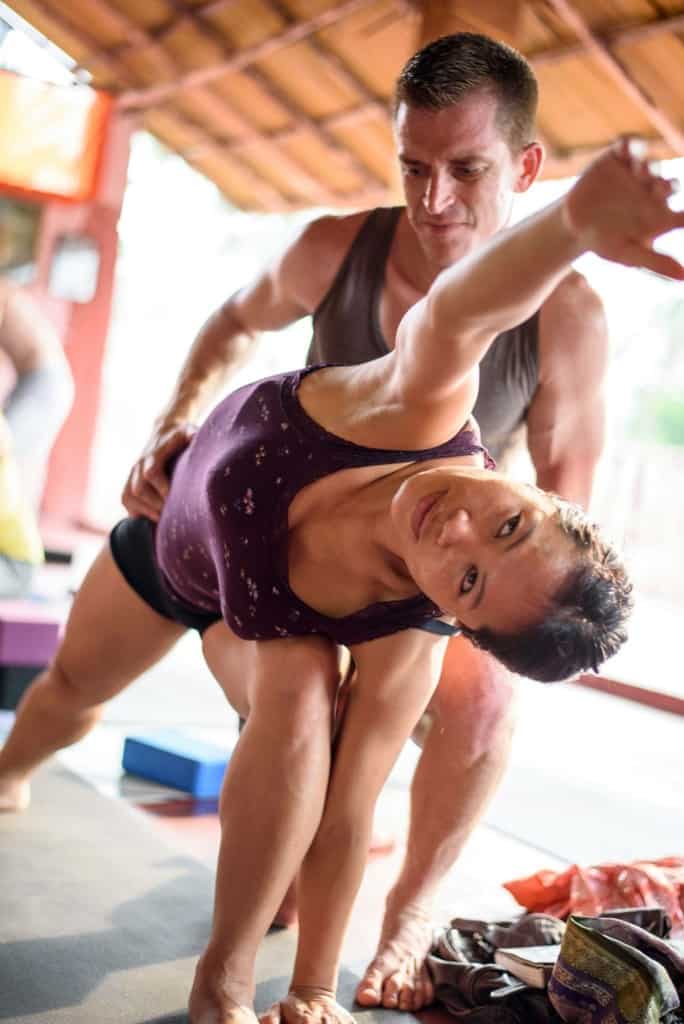 Sunday: Stretch….to a Castel on a hill
Every day will begin with coffee and tea service followed by Mysore Practice lead by Cory.
The class structure is "open", meaning that you can have a flexible start time. Each day, we'll provide a practice time window, and depending on the length of your practice, your energy level, and so on, you may enter the practice room when you like. Following practice, we'll have time for chanting, pranayama and dharma talk to explore the 8 limbs of Ashtanga Yoga.  Then we'll all enjoy a vegetarian lunch together at the villa.
In the afternoon, you'll head off to Castel del Monte, a UNESCO World Heritage Site featured on the back of the Euro penny. Built in the 13th century by the Swabian Emperor, Frederick II, Castel del Monte is perched atop a hill, overlooking all of Puglia and the Adriatic. The castle is featured in many myths and legends, including the Holy Grail.
That night, we'll head into Terlizzi that night for a dinner.
Monday: Ancient Gravina 
As always, you'll begin your day with Yoga followed by a vegetarian lunch at the villa.
That afternoon, you'll head to Gravina, a gem of an ancient town near the villa. Explore churches carved out from caves and saunter over an ancient Roman bridge spanning a beautiful ravine.  Afterwards, you'll return to the villa for dinner.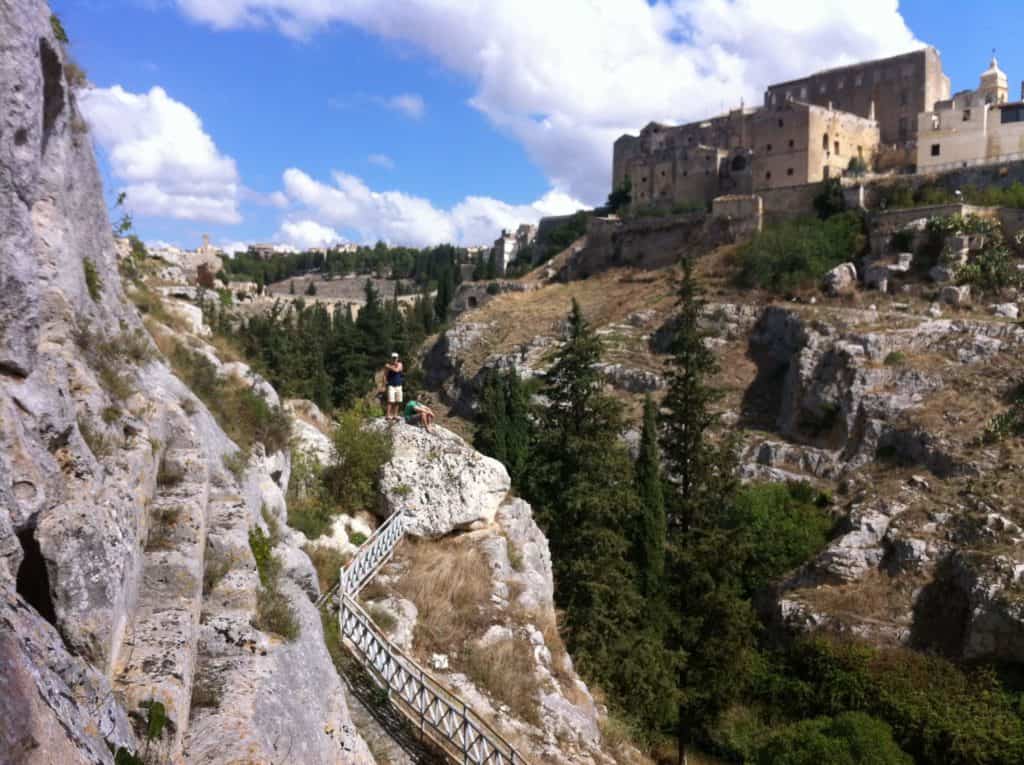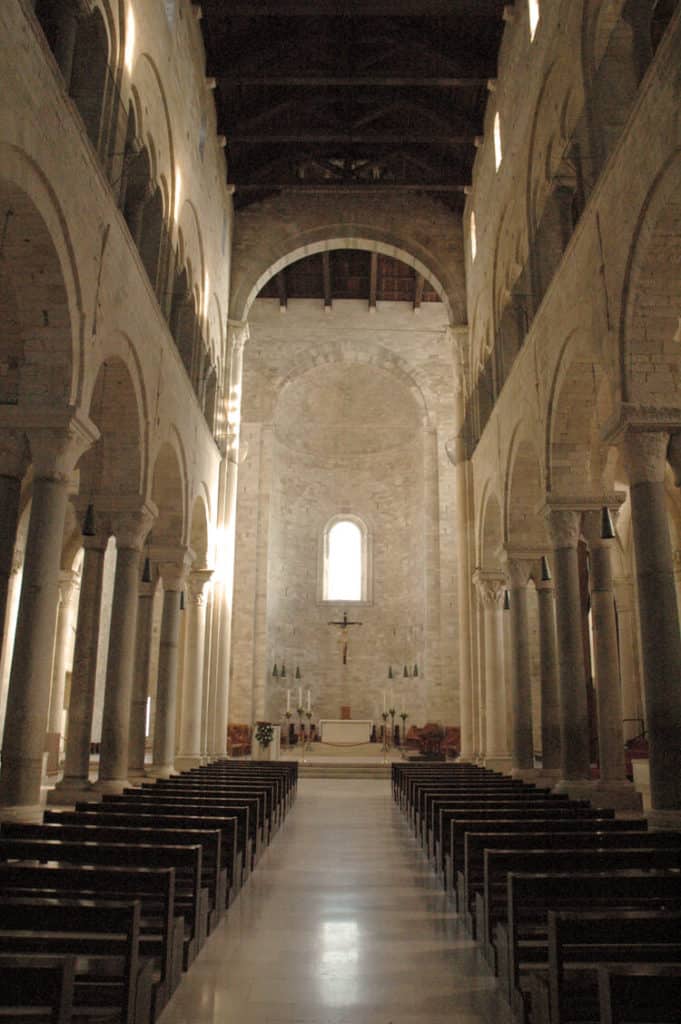 Tuesday: Travel to Trani
Wake up to with the beautiful Italian sun and continue your yoga and meditation studies followed by lunch at the villa.
That afternoon, you'll travel back in time to 216 B.C. and the site of the Battle of Cannae, a major battle of the Second Punic War, near the town of Cannae. Here Hannibal decisively defeated a numerically superior army of the Roman Republic, and it is regarded as one of the greatest tactical feats in military history.
Then, you'll head to the town of Trani for dinner. This charming town features a beautiful port and a giant cathedral that sits right on the sea. It's truly one of the most beautiful cities in Puglia.
Wednesday: A Sea of Meditation
This morning you'll practice more yoga, including breathing and meditation with Cory, then have another lovely lunch at Vill Cappelli.
In the afternoon, you'll head off to Polignano a Mare, a true gem of a town. You'll walk the winding ancient streets and enjoy the views from this amazing city that literally juts out into the sea.
There is a small rocky beach for those who want to dip their toes in the water. Enjoy an amazing dinner in this beautiful seaside town before heading back to the villa.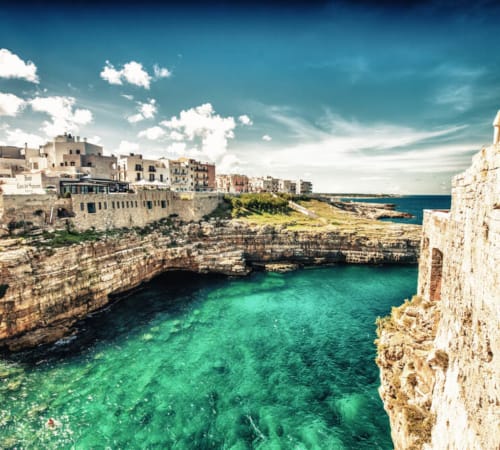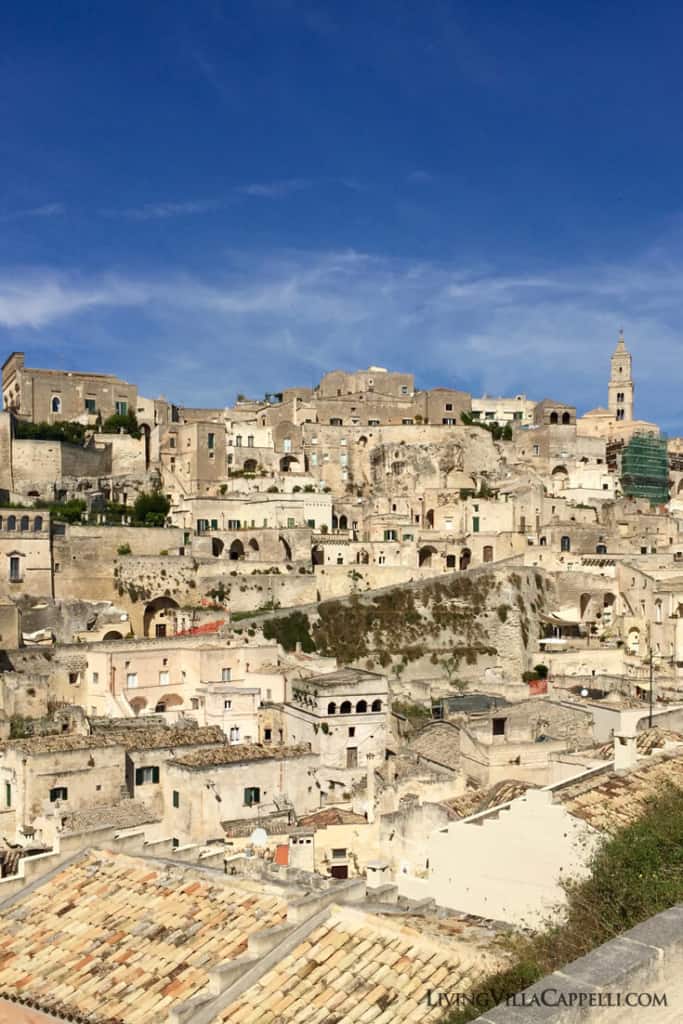 Thursday: More Meditation & Matera
By now you're really getting into the rhythm of things.  Be sure to use your one-on-one time with Cory and really absorb his knowledge these last couple of days.
After lunch, you'll head to Matera, another amazing UNESCO World Heritage Site. This area dates back centuries but is still occupied today by residents, shops, restaurants and even hotels that are built into the soft "tufa" rock.
You'll walk the ancient winding streets that are so well preserved that they have been used in many movies, including Mel Gibson's The Passion of the Christ and the recent Ben Hur. Enjoy dinner in one of the great restaurants in town.
Friday: Peace, relaxation, and panzerotti!
Today you'll finish up your lessons with Cory. Be sure to get in any last questions and advice so you can take all that you've learned with you.
After lunch at the villa, the afternoon is free to relax poolside or explore the neighboring country side.  Take a walk along the ancient Via Appia Traiana or just lounge and soak up the Puglia sun.
Tonight, we celebrate our week with a panzerotti party.  A very traditional, local dish served at most celebrations.  A fitting end to your week in Italy.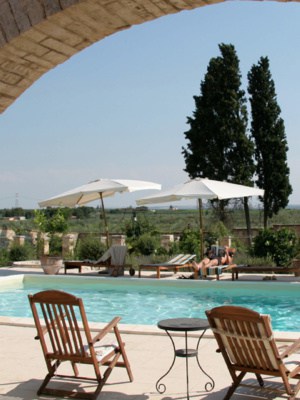 Saturday: Arrivederci! (See you soon!)
Today, you'll unfortunately have to say goodbye to Puglia and all your new friends. Transfers will be available for those heading to the airport of train stations.   But it's not "goodbye" as we know we'll see you again!
Included:
Daily morning lessons with Cory

Coffee & Tea service every morning followed by a vegetarian lunch at the villa

Every meal at the villa, which includes Villa Cappelli wine and after-dinner liquors

There is also a complimentary cocktail time every night

All transportation listed in the itinerary, including airport and train pickups and drop-offs near the villa
Not included:
Any souvenirs or other purchases made during your trip

Any meals or snacks outside the villa in the towns we visit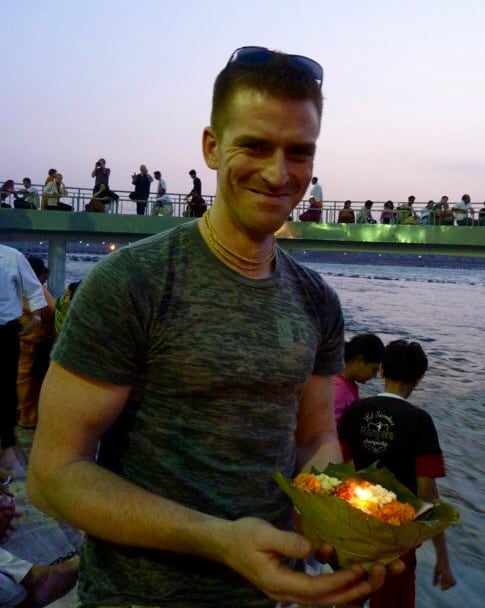 Meet Your Teacher Cory Bryant
Cory grew up in the 1970s-80s farm country of Southern Indiana surrounded by family. It was a time that generated deep love and respect for family, animals and the earth.
He began practicing yoga just after the attacks of 9/11 while living in New York City. Cory completed multiple teacher trainings in 2008 and has been teaching since.
His commitment to practice and teaching has continually deepened and in December 2015 he resigned from an international food policy position at the U.S. Food & Drug Administration to pursue yoga study, practice and teaching full-time.
Currently, Cory studies under Certified Ashtanga Teacher David Garrigues of Philadelphia. He teaches daily at Flow Yoga Center in Washington, DC where he leads an afternoon Mysore program. 
 He is blessed to share his life with his husband of 14+ years, Richard, and their three crazy fun dogs, Lola, Spanky and Bodhi.
  To learn more visit:  
www.coryyoga.com
Join us! 
Rooms €1670 —  €1850 double occupancy for the week (€500 single supplement)
Enter your name and email below, and we'll get the process started.
If you have any questions, just email us at [email protected]
Price includes: Lodging for 7 nights in double occupancy room at Villa Cappelli; Limited single rooms are available for a single supplement; All meals at the villa; Transfer from Bari Airport or Terlizzi or Molfetta train stations on arrival and departure days; transportation to and from events listed in the itinerary.
Price does not include:  Air or other transportation costs to and from Bari, Italy or nearby towns; personal items such as souvenirs, snacks, faxes, telephone calls; meals outside the villa; admissions or guide fees you may want at any of the sites listed in the itinerary; gratuities for guides.